Versatility
Every great management method of the past century relies on a common set of tools. We built those tools into PathMaker. You can use it for:
Everything you want to know about PathMaker...
Bottom-line results
PathMaker works online or offline, in and out of meetings. You don't have to find a time when people can all assemble in one room; just log into the project, see the latest changes, and make your own updates.
Brainstorm together online.
Flowchart together.
Create charts and graphs together.
Slash meeting time.
Analyze problems.
Track progress and indicators.
Think of solutions.
Accelerate your projects.
Drive out paper.
Tools! Everything's in one place.
You've seen these tools in training. You've used them in meeting rooms. Now they're in software!
Tools for creative thinking: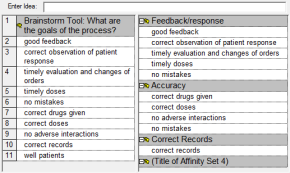 Tools for analytical thinking: