SkyMark's Benchmarking Framework offers a powerful set of tools for comparing organizations. There are two major "themes" in our framework:
Data collection and comparison - see where you are lagging and leading, across a whole range of performance metrics that you create.
Sharing best practices, and discussing:

If you are leading, you can tell other people how you do it.
If you aren't leading, you can see who is, and learn from them.
This works really well, with a couple of caveats:
The participating organizations need to be willing to share data.
The leaders have to be willing to do show and tell.
Our framework can be customized to suit the needs of the benchmarking group. It's a Java/JSP code base, web-based, running against a fast enterprise-class SQL database.
Users can define metrics, create formulas, set charts they want to view on their main dashboard, and, at a glance, see where their organization is in relation to its peers. Leaders can also post files, e.g. written descriptions, process flowcharts and the like, to a common file sharing area, and then answer questions about them on forums.
Our benchmarking framework provides a powerful way to move your organization forward by leaps and bounds. It is ideal for hospitals, schools, governments, any organization with multiple locations, e.g. hotel and restaurant chains, franchisers and non-profit organizations with many local chapters.
---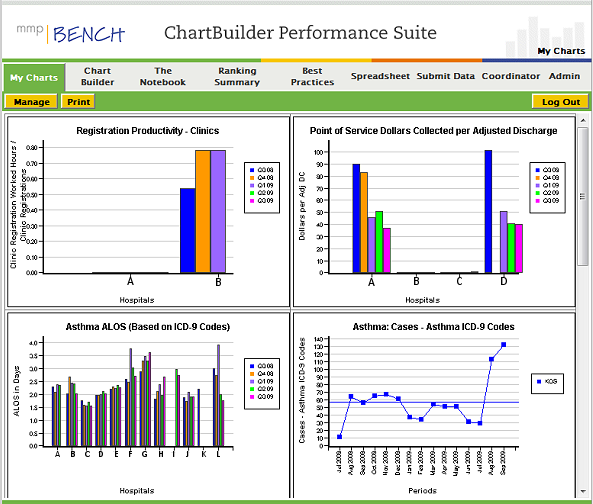 Project Highlight: mmp|BENCH
mmp|BENCH's ChartBuilder application uses our benchmarking framework to give pediatric hospitals the tools they need to compare their operating statistics to the best practices among their peers.