SkyMark's Recruiting, Selection, Coaching, Mentoring Framework is a system that jumpstarts the development of a custom application for:
accepting expressions of interest
scheduling information sessions
accepting nominations of candidates
accepting detailed applications for jobs, or places
assessing candidates through a recruitment "funnel"
tracking the history and progress of each candidate
rating candidates against criteria
scheduling and holding interviews
assigning coaches to new hires
assigning mentors
assessing progress
It can be readily combined with our Survey System Framework, too, to allow all parties to provide feedback on the process, to register opinions and suggestions for improvement, and to flexibly assess any/all of the parties.
The software is implemented currently as a Java/JSP web application, running against a SQL database.
Suggested applications are in colleges, schools, personnel departments, placement offices, athletic programs, and business training/organization development programs.
---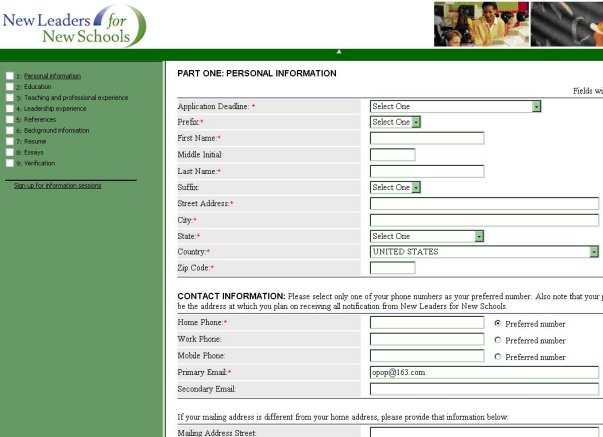 Project Highlight: New Leaders for New Schools
Here is an example web page from our recruitment and admissions framework. This instance is for New Leaders for New Schools, a large non-profit whose mission is to recruit and train the next generation of outstanding school principals. The image shows a page from their extensive online application form.